Savour Kilkenny Festival Going Green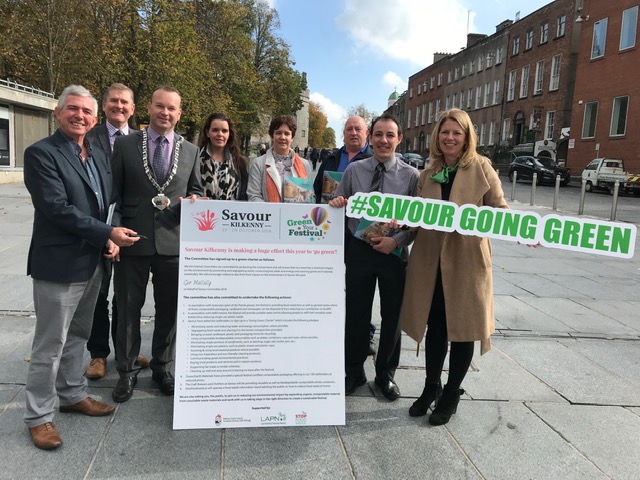 L-R: Ger Mullally, Savour Kilkenny, Sean McKeown, Director of Services KCC, Cathaoirleach of Kilkenny County Council, Cllr. Eamon Aylward, Mary Cashin A/Environmental Awareness Officer KCC, Catherine Millea Environment Section KCC, John Byrne, Public Realm Warden KCC, Ian Brennan, Savour Kilkenny, Marian Flannery, Savour Kilkenny.
Kilkenny County Council and Clean Technology Centre in conjunction with Savour Kilkenny are delighted to announce that Savour Kilkenny is going green. The Savour Festival has taken on green initiatives this year that will minimise environmental impacts through waste minimisation and also increase environmental awareness for stall holders and the many visitors expected to attend the festival this year. The Environment Section of Kilkenny County Council is funding the greening of the festival through the Local Authority Prevention Network fund.
Savour has introduced a green charter for stall holders who will pledge to minimise waste and reduce water and energy consumption amongst a variety of other environmentally friendly pledges.
This year the festival will provide food waste bins, in addition general waste bins, which will cater for cooked or raw food, compostable packaging, cardboard and newspaper. This green initiative will divert food waste from landfill and instead the waste will be composted and converted into a usable product. Kilkenny County Council and the Savour Committee encourage festival goers to separate their waste into compostable and general waste, to refill their water bottles at water points that will be provided thus reducing the need for plastic bottled water and to walk, cycle, car pool to get to events.
Cathaoirleach of Kilkenny County Council, Cllr. Eamon Aylward, commented that "Savour is not only a local festival but is now a successful national event attracting 40,000 plus visitors and the green initiatives adopted by the Festival Committee are to be commended as they will have the dual effect of increased environmental awareness and waste minimisation amongst the business community and festival goers. The fact that the festival committee are determined to build further on the greening of the festival is testament to their commitment in reducing the festival's environmental footprint".
The Festival will also have environmental information stands at the market with consultants from Stop Food Waste and Voice Ireland Recycling Ambassador Programme who will provide useful information on food waste prevention and what you can actually recycle in your household.
Commenting on Savour Kilkenny Going Green, Marian Flannery, Festival Director, Savour Kilkenny, said,
"We are delighted to announce that Savour Kilkenny has signed up to a green charter, which will see the festival become much more environmentally friendly. At Savour we have always been committed to doing all we can to protect the environment. This year we have put in place structures which will ensure our festival has minimum impact on the environment, these initiatives are focused around preventing and segregating waste, consuming less water and energy, and sourcing goods and materials sustainably.
This is just the first step in our green strategy and next year our hope is that we will become even more sustainable. Over the last number of years Savour Kilkenny has grown massively from a local festival to one of the leading food festivals in the country. With this expansion comes responsibility, and we are acutely aware of our duty to protect the natural environment and our visitors will notice lots of environmental actions throughout the 2018 festival."
PRESS RELEASE CONTACTS
Mary Cashin, A/Environmental Awareness Officer, Kilkenny County Council
mary.cashin@kilkennycoco.ie
087-7910024
www.savourkilkenny.com (Events section - Savour Going Green)