Public Lighting Energy Efficiency project (PLEEP)
Kilkenny Public Lighting Upgrade
This is an energy efficiency project with the objective of reducing energy consumption and carbon emissions by adopting Light Emitting Diode (LED) technology.
The public sector has an obligation under 2009 National Energy Efficiency Action Plan and the Public Sector Energy Efficiency Strategy (2017) to improve its energy efficiency by 33% by 2020, and 50% by 2030. The principal objectives of the project are to enable Local Authorities to achieve their share of the climate action targets.
21 Local Authorities are collaborating in the National Public Lighting Energy Efficiency Project (PLEEP) to retrofit public lights in their areas to LED. The project will be delivered in three geographical regions, South West, Eastern, North West, each led by a Lead Authority. Kilkenny County Council is the Lead Authority for the 9 Local Authorities in the Eastern Region.
Further information and frequently asked questions are available from the National Public Lighting Energy Efficiency Project (PLEEP) web site at www.publiclighting.ie
What is Involved Locally?
The replacement of 5,500 existing street lights with new LED fittings across Kilkenny City and County including upgrading of lighting poles and brackets as necessary.
Kilkenny County Council commenced changing to LED lights in 2017 with the works to be completed during 2023.
What are the Benefits to the Community?
The street light upgrade project is a significant action under the Kilkenny County Council Climate Change Adaption Strategy as public lighting uses 33% of all the energy used by Kilkenny County Council.
The benefits include
LED lighting products produce light up to 90% more efficiently than incandescent light bulbs.
Upgrading all the street lighting to LED will reduce Kilkenny County Councils public lighting electricity consumption by up to 70% and the Councils overall energy consumption by 16%.
In 2021, the past upgrade of street lighting avoided the emissions of 546 tonnes of CO2.
Energy use for public lighting will reduce significantly (between 60 and 70%) with a resultant saving in revenue costs of approximately €200,000 per annum.
Light output will be more controlled, and concentrated on the roads and footways resulting improved public safety.
The orange sky glow that is seen on cloudy nights will almost disappear. (Some private lighting systems may remain).
Surrounding areas, away from direct light will be returned to its natural state benefiting nocturnal animals and star gazers, as more stars may be visible at night in urban areas.
LED street lighting will require less energy than older street lights will contribute to the counties and the country's targets of reducing its carbon emissions.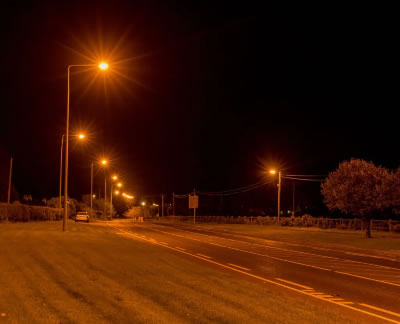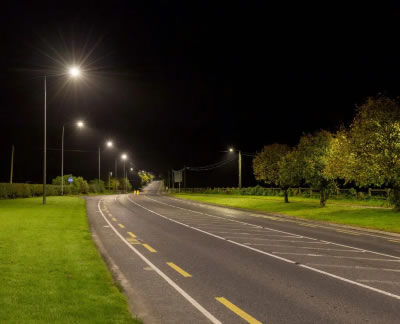 Emissions Produced by Kilkenny County Council in 2021
Kilkenny County Council Emissions 2021
Emissions Overview 
Emissions by Category 

4,354 Tonnes of CO2 Total Emissions Produced by Kilkenny County Council in 2021

| | | |
| --- | --- | --- |
| 33 Percent of CO2 Emissions from Building & Facilities | 33 Percent of CO2 Emissions from Public Lighting | 34 Percent of CO2 Emissions from Municipal Fleet |