Waste Prevention Programme
The Council operates a waste prevention programme which works with businesses, community event organizers and the wider community to promote waste prevention.  The programme has many strands to cater for the diverse number of stakeholders.
What is Waste Prevention?
Essentially, it's a process of re-thinking how we do things in order not to create waste. Preventing waste is about finding ways to keep items in use longer and not generating as much waste in the first place.  It's about rethinking the way we do things – redesigning the items we use – changing attitudes and changing behaviours about what we buy and what we throw away, but most of all, working together and thinking creatively to do something about it.
Greening Events
Under the Local Authority Waste Prevention Network (LAPN), Kilkenny County Council created a green charter check list for event organisers. To view the complete list, it can be viewed here.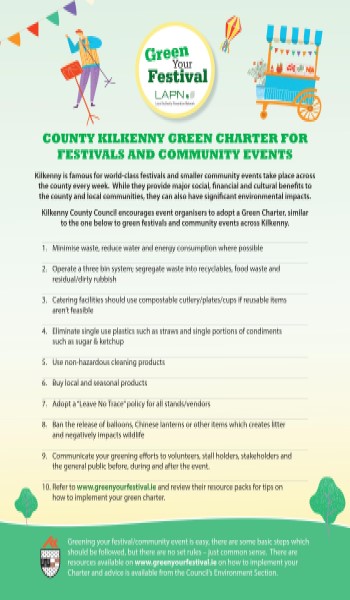 Greening Venues
Kilkenny County Council has previously worked with the Iverk Show Grounds, Ballykeefe Amphitheatre and is currently collaborating with the Castlecomer Discovery Park to improve the environmental performance of the site.
Community Waste Prevention Grants
Every year, the waste prevention programme offers small grants (max of €500) to communities to undertake small waste prevention projects to promote the concept of waste prevention in their local communities.  Last year successful projects included the promotion of re-useable water bottles, the promotion of bee wax food coverings and the up-cycling of graveyard wreaths.  The 2022 application form will be released in February.