River Rescue at Breagagh River on Sunday 17 th April 2005.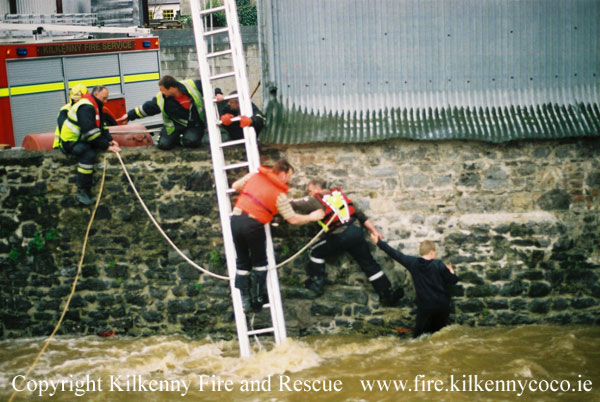 The fire service received a call at 19.07 hours from the Gardai to two boys trapped in the river Breagagh. Within minutes Kilkenny City rescue tender was in attendance. On arrival they found a civilian (David Byrne) attempting a rescue by reassuring the two trapped boys. The fire service immediately lowered a 35ft ladder with great difficulty into the flood waters. Firefighters Corabh Wise and Andy Ramsbottom wearing lifejackets descended the ladder and after a number of attempts in treacherous conditions reached the two boys.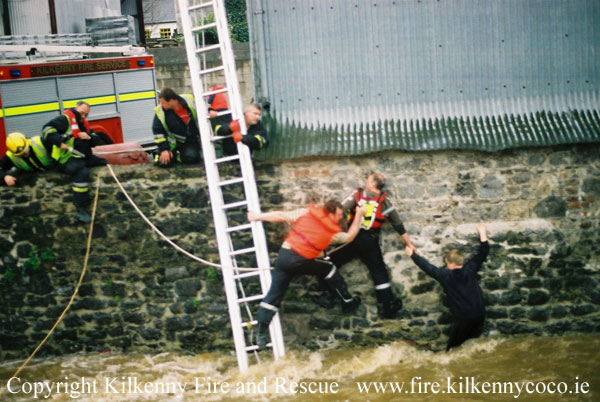 One by one the two boys were taken from the river by the firefighters to safety. John Collins, Assistant Chief Fire Officer, praised the heroic efforts of all the members of the fire crew, in particular firefighters Wise and Ramsbottom who were involved in the rescue. He went on to add that only last October that six fire brigades of Kilkenny fire service undertook a water safety training course through the Kilkenny Water Safety Group. This training stood to the fire crews in carrying out such a successful rescue.