Accessibility Improvements in Kilkenny
Accessibility Improvements in Kilkenny
The first cycle tracks in Kilkenny were provided in 1995 on the Grange's Road and the Castle Road to accommodate the local school going population.
Further provision for cyclists and for pedestrian improvements were provided on Pennefeather Way (from Newpark Shopping Centre to O Loughlin road)and Garringreen in 2004/2005.
Progress in past 5 years
2007- New cycle track and footway incorporated into the Kilkenny Ring Road Extension between Dublin Road and Castlecomer Road
2007-New footpath and road improvement on Glendine Road
2008-Completion of cycle tracks on Freshford Road, Castlecomer Road, Hebron Road, Waterford Road, Bennettsbridge Road and Bohernatounish Road
2008-Dublin Road, Castlecomer Road and Hebron Road junction improvements
2008-Introduction of new urban speed limits of 30kph in city centre and in the vicinity of schools
2009-Completion of road, cycle track and footpath improvements on Ballybought Street
2009-Completion of urban realm improvements on the Parade incorporating new accessibility arrangements
2010-Full pedestrianisation works completed on Kieran Street
2010 – Ramped pedestrian crossing and footpath improvements at Michael St. adjacent to St. John's Junior School . Traffic calming measures on Outrath Road.
2010-Cycle track and new footpath constructed on Ring Road between Dublin Road and Watershed
2010-Cycle tracks, footpaths and road improvements completed on Old Golf Links Road/New Orchard Road
2011-Construction of further cycle tracks on College Road, Dublin Road, Granges Road/Dean Street and Quay Link (Kieran St. to Johns Green) under the Smarter Travel programme
2011-Pedestrian crossing points at Jacob St , Circular Road Bennettsbridge Road, Waterford Road , Dublin Road and Bateman Quay and improvements to existing crossing points at Dominic Street and the Butts .
2011-Works on re-development of Johns Green , footpaths on Wolfe Tone Street and Fr Hayden Road .
2011-Urban realm improvements and additional crossing points on John Street together with footpath improvements at St. John's Church
2011-Provision of bicycle parking facilities in city centre locations including covered parking at Friary Street and Johns Green. Bus stops with high level kerbs constructed at Bateman Quay and Castlecomer Road.
………………………………and more to come in 2012 including:-
Resurfacing of Callan Road and Ring Road between Callan Road roundabout and Waterford Road roundabout. The work will include new footpaths/cycle track between these two roundabouts on the city side.
Construction of new footpath and cycle track on the Ring Road between the Watershed and the Waterford Road roundabout. On completion, there will be a continuous footpath and cycle track over 7km long between the Callan Road roundabout and the roundabout on the Castlecomer Road.
Provision of bus stop shelters and seating at key locations in the City including the provision of high level kerbing.
Resurfacing of the N10 Waterford Road from Springhill to Danesfort Cross.
Public realm improvements to High Street and Patrick Street as a priority.
Advance the planning and design of the Pedestrian Bridge at Bateman Quay/Carnegie Library as the final component of the 'Quay Link' pedestrian/cycle way connecting the City Centre to the Railway Station.
Footpath improvements at Ormonde Road . Wolfe Tone Street , Kells Road , Vicar St. Greensbridge St and Bateman Quay .
Car Park Improvements at Fairgreen , Dean St and Market Yard including the provision of bicycle parking.
Advancement of 'Park and Stride' concept whereby cars are parked on the periphery and the occupants stride or cycle onwards .
Promotion of Walking Bus for primary school parents .
…………………………….walking the walk in 2012
2008
The first phase of the River Nore Linear Walk was completed in 2009. Measuring 2.5 km long it connects the weir on Bleach's Road to the rear of Riverview Drive just north of Green's Bridge
2009
Further work on the linear walk was completed from Lacken Weir on the east bank of the river and also on the Canal walk area adjacent to the Castle grounds.
2011
A new elevated boardwalk was completed in 2011 connecting the Ring Road at Ossory Bridge to Maudlin Street. The completion of this project in 2011 provides recreational walkers with 5km of urban style walkway in a peaceful riverside environment.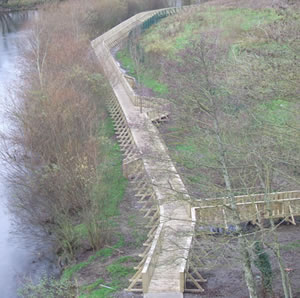 View of new board walk from Ossory Bridge on Ring