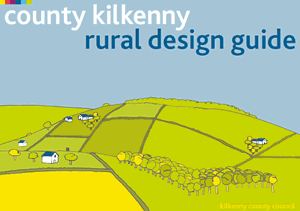 The Rural Design Guide is available for download here. (PDF 7.3 Mb)
Kilkenny County Council's 'Rural Design Guide' aims to promote the highest standards of design and sustainability and gives practical guidance for single dwellings in County Kilkenny.
This guide explains and endorses the principles of good rural house design as well as advising the key steps to be taken in order to arrive at an informed and considered decision about 'where' and 'what' you build.
The County Kilkenny Rural Design Guide may be obtained free of charge from the Planning Department, Kilkenny County Council, County Hall, John Street, Kilkenny.